Are you concerned that a senior in your life is vulnerable to investment fraud?
The information on this page can help you support them. Need a quick read? Start with this factsheet for a summary on what to look for and how you can help.
Want additional info? Consider attending one of our free programs listed below hosted virtually online. If you live in an Alberta town or community outside of Calgary and Edmonton, the Red Deer presentation on Facebook Live is accessible for anyone in Alberta.
Take our "How safe is your nest egg?" quiz to see if you are on the right track to protecting your financial future. Then read on for common scams targeted at seniors, red flags of fraud and more information to help point you in the right direction on your investment journey!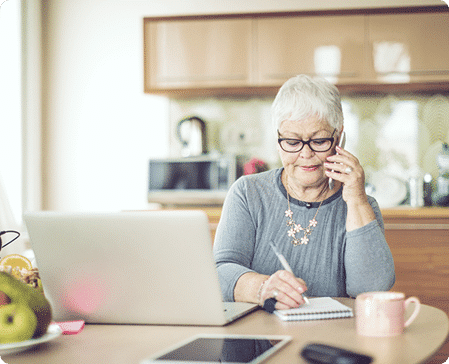 Understanding investments – it starts
with a plan
Investing as a senior brings with it new considerations about your financial goals and retirement. As you near or live in retirement, you need to identify the primary sources of income available to you – such as Old Age Security, the Canada Pension Plan, RRIFs and personal savings – and what role your investments will play alongside them. To answer this, it's beneficial to lay out a pre-retirement/retirement plan that addresses the lifestyle you would like to have and how you can achieve it.
Use our retirement calculator to develop or review your retirement plan.
Investment considerations
1
The time horizon of your investments
The time horizon is the amount of time you expect to hold onto an investment to achieve a financial goal. Time horizons vary according to your goals (i.e. a short-term goal could be saving for a trip, while a long-term goal could be saving for retirement), your age and when you began investing. Generally speaking, the longer time period you hold an investment, the more risk you're able to take as your investments not only take advantage of compound interest but you have more time to recover losses. As you age, you may want to consider transitioning to a more conservative portfolio of investments.
2
Your risk tolerance
Every investment carries with it some level of inherent risk. If an investment is offering higher returns, like a stock or mutual fund, there will also be a higher risk involved. Vice versa, if it is offering lower returns, like a GIC or savings account, the risk is lower. When assessing your risk tolerance it is wise to consider if you would not only be able to handle its loss but if your comfortable assuming that amount of risk. You should periodically review your portfolio to ensure that your risk tolerance and investments are in line with your financial goals, comfort level and your life stage.
Recognizing and avoiding investment fraud and financial abuse
According to the Government of Alberta, financial abuse is one of the most frequently reported forms of elder abuse in Alberta. While we are all potential targets for scams, older people are targeted due to the perception that they have built up a nest egg for retirement that might include savings, property or a pension. Seniors might be at further at risk  if they are looking to maximize their investments to help them through retirement and leave money for their children or grandchildren.
While fraudsters may use well-orchestrated scams to sell you on fraudulent opportunities, unsuitable investments or manipulate your money, the good news is that there are usually red flags that you can easily recognize. Make sure you're familiar with the red flags of investment fraud.
Assigning a Trusted Contact Person to safeguard your financial assets
As you age, you may experience a decline in your health and cognitive abilities due to medical issues, pre-existing conditions or the natural aging process. In these circumstances, you may become more reliant on others in making financial decisions, potentially exposing you to financial abuse and fraud by those who do not have your best interests at heart.
To help safeguard potentially vulnerable clients from financial abuse and exploitation, the Canadian Securities Administrators, of which the Alberta Securities Commission is a member, introduced the Trusted Contact Person (TCP) . A TCP is someone you can have listed on your account informing your advisor of who you trust and who they can contact in limited circumstances. This could include:
– If you are unable to be reached
– If your advisor has concerns you are vulnerable and being financially exploited
– If you are having a health issue and your advisor needs to confirm your wellbeing
– If your advisor needs confirmation of your legal representative
Learn more by reading the CheckFirst article A trusted contact person: Enhancing your financial protection as you age
Protecting your nest egg from investment fraud
Common types of scams targeted at Canadians 50+
While you could be approached with any scam, there are a couple that are most commonly used against older people.
Affinity Fraud: Fraudsters exploit the trust built within groups or communities (such as a church or a curling club) to pitch fake investments to you and your friends and family. Those you know may also try and bring you into the investment, not knowing that it is fraudulent. Always do your homework to make sure the opportunity is real.
Cold Calls: Persistent salespeople use aggressive sales tactics over the phone to pitch genuine-sounding investment opportunities to you. Once they've got your interest, they try to get access to your banking information for the fake investment transaction.

Pig butchering: Much like romance scams, fraudsters establish a fake relationship through social media and dating apps with victims  and convince them to invest in crypto money making opportunities. They will often direct victims to withdraw their current investments and savings and transfer them to into a fake trading platform. 

Romance scams: Fraudsters use online social media groups and dating sites, seeking to establish trusting friendships or romantic relationships with potential victims to manipulate them into investing in a scam or pressuring individuals to invest. Be highly skeptical of unsolicited investment offers, especially from those you have just met.
Investment Seminars: Usually billed as educational seminars with "exciting" and "lucrative" investment opportunities, you are given 'free' lunch or coffee and are then pressured to invest right away. Always walk away and research the opportunity – if it's real, it'll still be available later.
Investment Seminars: Usually billed as educational seminars with "exciting" and "lucrative" investment opportunities, you are given 'free' lunch or coffee and are then pressured to invest right away. Always walk away and research the opportunity – if it's real, it'll still be available later.
Always check registration
Remember, one of the most important steps before considering any investment is to check the registration of the individual or firm offering the opportunity. By checking registration, you can verify that the individual or firm:
Is registered and qualified to sell securities in Alberta
Does not have any disciplinary decisions or cease trade orders against them
Is permitted to sell the types of securities they are offering you
Learn more about checking registration and how to conduct your registration check before you invest.
Looking for additional resources to further your investor knowledge? The ASC has developed a collection of senior-focused resources to help seniors – and the people close to them – learn ways to spot and stop elder financial abuse. Check out the following fact sheets and visit our resources sections for a wealth of quizzes, calculators, videos and investing 101 courses:
We're here to help
If you feel you or someone you know has been offered a suspicious investment or may be a victim of investment fraud, do not hesitate to contact the Alberta Securities Commission.